Rear view of 1976 Bricklin SV-1 VIN 2895, with 1974 Suntan 4 speed VIN 322 in the background.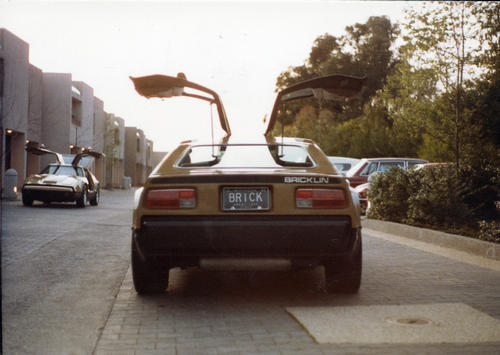 Link Sites - These links leave this website, and may be of interest to the Bricklin Owner / Enthusiast. The Senior Editor / bricklin-sv-1-build-history.com is not responsible for the content on these links / other sites.

Spend a brief 98 seconds of High Quality Time and see that democracy works because of religion.

Clayton Christensen, a professor, at Harvard Business School, shares his experience observed by a Chinese economist. Bottom Line: Religion is critical to democracy.


Tim Palmer's Model Bricklins

Tim Palmer makes outstanding model Bricklins !!! Thanks to Tim for a link on his site.


Christmas 2019

If you appreciate all the good President Donald Trump has done for this country, you will like this. Merry Christmas 2019.


Motorweek 1975 Bricklin review

Good review from Motorweek of a 1975 bricklin SV-1 !


Hemmings Daily: Bricklin sells for 46 million on Moon Base 5 dated April 1, 2038 We have a bit of fiction here on the lighter side... Note the date: April 1, 2038.



The Girls On Fox News Song

A few years dated now, but still worth watching. Don't miss the cow bell... simply amazing !!!


World's Tiniest V-12 Engine

Turn up the speakers, and spend 9 -10 minutes with a Master at work !!! Absolutely Superb !!!

This version updated in 2022 does not have the problem of the version that lasted

for a number of years that stopped at some point. Like the original version, it goes to

the end of the video. This is a MUST SEE !!! Note the use of the Rohm MK 2 live center /

morse taper made in Germany. As I understand everthing was made from scratch except

the screws. This is almost beyond belief...


Radio Free Europe

I grew up during the Cold War. Radio Free Europe played an important role in defeating communism. They would broadcast to Eastern Europe at the time.

I can remember sometimes waking up early in the morning, well before grammar school started, putting on the television, and seeing a commercial like

this one on the link...